Nose Surgery (Rhinoplasty)
Nose surgery holiday packages in Thailand, Malaysia, Mexico and more
Rhinoplasty
The development of rhinoplasty occurred primarily as a plastic surgery technique to restore a proportional nose shape, or to correct for constricted breathing, whether after injury or due to a birth defect.  In addition to these corrective procedures, surgeons now use this extremely popular cosmetic procedure to perform subtle aesthetic changes to nose size and shape of the tip, the nostrils or the bridge.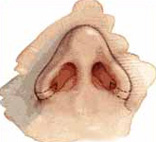 If your nostrils are too wide, the surgeon can remove small wedges of skin form their base, bringing them closer together.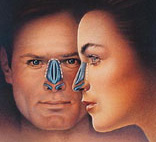 Incisions are made inside the nostrils or at the base of the nose, where access to the cartilage and bone allows for sculpting.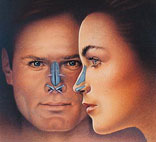 The hump is removed using a chisel or a rasp, then brings the nasal bones together to form a narrower bridge. The nose tip is reshaped by trimming the cartilage.
The angle between the nose and upper lip is improved after trimming of the septum.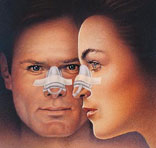 A splint made of tape and an overlay of plastic, metal, or plaster is applied to help the bone and cartilage to maintain their new shape.
Best candidates for Nose reshaping
You may be a good candidate for rhinoplasty if the nose you were born with makes you self-conscious or unhappy. Other candidates may be unhappy with how their nose has aged. Even slight changes to the shape of the nose can have a dramatic effect on appearance. And can change how people interact with you. Plastic surgery can reshape deformities, reshape changes from aging and other causes, and restore balance.
Expectations are an important element in what makes a good candidate. The best nose surgery candidates simply want to improve the nose appearance, but do not seek perfection. The ideal candidate should not expect rhinoplasty to transform them into someone else. The best candidates are well adjusted and otherwise happy with their lives.
Many young people consider rhinoplasty; however, the procedure should wait until after the teenage growth period that occurs in the mid-teens. This growth period normally occurs from ages 14 to 15 for girls and somewhat later for boys.
Preparation for Nose Surgery
Before you undergo a nose cosmetic surgery procedure, it is important for you to discuss any medical conditions that you have. And to tell your surgeon about any medications you are taking including any herbal or other non-prescription ones. If your surgeon decides that you can have nose surgery, discuss the procedure thoroughly with him or her before deciding if you want to go through with the procedure.  You may still change your mind even after discussing the procedure with your surgeon.
Your consultation with the surgeon will give you a detailed understanding of the treatment; the extent of surgery, your health evaluation, your expectations and exactly where the areas of the nose will be treated. When you are happy with what has been discussed, you will sign a booking form for the operation.
Your surgeon should be able to answer any questions that you have about nose surgeries; including questions about what to expect during and after your surgery and complications or problems that can occur with nose surgeries. You may also take information from this website to your appointment to discuss with him.
During your consultation your surgeon will do a physical evaluation of the areas to be treated. At this appointment you and your surgeon will discuss your goals, last queries you have and finalize your surgery plan.  From this examination, he can determine the best procedure, and explain it to you in detail; including the benefits and limitations. A combination of additional procedures may be recommended by the surgeon. For instance the upper and lower eyelid blepharoplasty or facial implants, for a better facial profile.
It is important to stress the importance of not smoking before a nose surgery procedure. Smoking can cause problems with circulation and make complications more likely, including post-operative chest procedures.  The GG Guarantee is not valid for smokers.
We also advise you to read our pre-rhinoplasty surgery preparation for maximum results.
Surgical Procedure
Rhinoplasty is a nose-reshaping plastic surgery that can be performed under local anesthesia or under general anesthesia. Nose cosmetic surgery normally requires an hour or two in surgery, depending on the amount of nose reshaping to be done. There are two types of methods: "open" versus "closed", and is most apparent when it comes to incisions and reshaping.
Closed Rhinoplasty – For minor reshaping, many surgeons make incisions within the nose. The skin of the nose is then separated from the bone and cartilage, which forms its supporting framework. Once exposed, bone and cartilage can be removed, reshaped, augmented, or rearranged to achieve the desired new shape.  For example, to make the nose narrower, cartilage can be removed down the front spine of the nose. After the cartilage and bone have been changed, the nose tissues are re-draped over the newly shaped framework and the incisions are closed.
Open Rhinoplasty – For major nose reshaping, the incisions are not made inside the nose. Instead, incisions are made in the vertical strip of skin separating the nostrils. This is called the columella. This more complex procedure is referred to as "open" rhinoplasty. You will be required to stay at least one night in hospital.
Recovery and Post-op care
Immediately after the incisions have been closed, soft puffy material may be used inside the nose to maintain the structure along the nasal air passages. Also after surgery, an external splint is applied to help the nose maintain its new shape. The splint provides some additional protection for the nose during the healing process. The external splint is typically worn for six to eight days.
After surgery, the nose will appear puffy and bruised. The bruising can extend to the eyes as well as other areas of the face. The surgeon will prescribe medication to reduce any discomfort that may occur after surgery. There may be some swelling and bruising around your eyes and nose for several days to a full week following surgery. A cold compress is recommended to reduce swelling and pain medication to relieve discomfort. You should also elevate your head for the first 24hrs.
Most of the swelling and bruising should disappear after seven days. You may experience limited bleeding the first few days. Normally after a few more days, all stuffing, splints, and other post-surgical dressings are removed. There will be some internal swelling within the nose for several months, but this will not be noticeable to anyone but you and the surgeon.
It is imperative that you do not bump your nose.
Avoid any trauma to the nose during the first week after surgery. Even blowing your nose should be avoided for the first seven days.
You will be moving around in a couple of days, but we advise you to relax for a week or so.
We provide excellent post-care support, with follow-up visits and programs to assist your recovery. If you have any questions or concerns, please let us know and we will schedule an appointment with the surgeon. View our recommendations for post-operative recovery.
Recommended length of stay on holiday
3 weeks is the surgeon's recommendation and the guarantee period, where you will have regular check-ups.
Other recommended procedures with Nose reshaping
Many people who travel for Cosmetic surgery have more than one procedure because of the cost advantages and also for a more balanced look.
Nose reshaping is often done with other treatments, such as eyelid surgery, cheek and chin augmentation, to give a more balanced profile. Other skin treatments, such as chemical peels and lasers, can also improve the skin texture and reduce lines. This will give the face a more refreshed appearance. Please view our non-invasive facial rejuvenation treatments.
GORGEOUS GETAWAYS offer great packages for combined procedures. Contact us today for more information and a price.
Your new look
After the bruising and swelling subsides after the first few weeks, your new look will emerge. The result of nose reshaping is permanent.
Sometimes treating one area may cause an overall imbalanced appearance. If you are having the rhinoplasty procedure, you may also need to consider other facial procedures to achieve balance and proportion. For example, chin augmentation is often performed with rhinoplasty. If you decide you need the additional procedure later, the two procedures are more expensive than if you had them at the same time.
Preconditions and Risks
We minimize risks and complications by selecting patients carefully and always having the most skilled surgeons, physicians and nurses carry out procedures. However, despite the highest standards, complications can occur. They are rare, and most patients will not have complications, but if you have concerns about possible complications, please discuss these with your doctor.
Please read the preconditions and risks page before embarking on any surgery.
Common Q & As
If you have questions other than those listed here, please view our complete page for Q & A.
nose job,nose job surgery,nose reshaping cost,nose augmentation surgery,nose reduction,nose surgery,male nose job cost,male nose reduction,nose reshaping price,nose rhinoplasty price,nose reduction price,nose lift surgery cost,enlarged nose,nose lift cost,nose reduction cost,nose up lifting,nose augmentation price,women nose jobs,nose reduction surgery,nose job cost,nose rhinoplasty cost,nose plastic surgery price,nose job surgery cost,male nose job,nose plastic surgery cost,nose plastic surgery,female nose job,nose surgery cost,nose augmentation,enlarged nostrils,male nose job price,cheap nose job mexico,nose augmentation cost,nose reduction surgery cost,cosmetic rhinoplasty,nose lengthening surgery,nose lift price,nose reshaping,nose reshaping surgery,nose job surgery price,nose lift surgery,nose job price,nose reduction surgery price,nose enlargement surgery,nose job men,plastic surgery nose job,plastic surgery nose job cost,nose reshaping surgery cost,male nose reshapingnose lifting surgery price,nose surgery price,nose lengthening,female nose job cost,nose cosmetic surgery,