Tummy Tuck & Mini Tummy Tuck Cosmetic Surgery
Tummy Tuck (Abdominoplasty)
There are several different Tummy Tuck Cosmetic Surgery techniques. The most common procedure is performed under general anesthesia, called a full tummy tuck.
If your only problem area is below the belly button, you may benefit from a less complex procedure called a mini tummy tuck, which can often be performed on an outpatient basis, under local anesthetic, such as that used by dentists. Or, your surgeon may recommend either a mini, full or extended tummy tuck, done in conjunction with liposuction to remove fat deposits from the hips, for a better body contour. Sometimes liposuction alone offers the best results.
Will a Tummy Tuck get rid of stretch marks?
Stretch marks are a common concern for those considering a tummy tuck. While a tummy tuck will not completely remove all stretch marks, it can help to improve the appearance of stretch marks that are located on the lower abdomen below the belly button. The stretch marks that are located above the belly button or on the sides are typically not removed or improved by a tummy tuck. During your pre-consultation, you can ask your plastic surgeon to discuss the specific goals and expectations for the procedure.
A typical tummy tuck (pictures depict a full tummy tuck procedure):
An incision just above the pubic area is used to remove excess skin and fat from the middle and lower abdomen.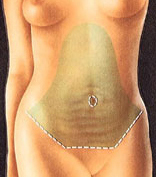 Skin is separated from the abdominal wall, all the way up to the ribs.
The surgeon draws underlying muscle and tissue together and stitches them, tightening them, thus narrowing the waistline and strengthening the abdominal wall.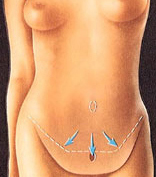 After surgery, you will enjoy a flatter, trimmer abdomen. Scars are permanent, but fades over time.
Mini Tummy Tuck
A mini tummy tuck, or partial/mini abdominoplasty, is a great option for people who have a small amount of abdominal skin to be removed and do not have a significantly protruding abdominal muscle wall. Individuals whose tummies are sagging with age or people who would just like to sculpt a slim tummy into a more desirable shape may find that a mini tummy tuck is an excellent option for them. (Please view right picture for length of scar, which is short and inconspicuous.)
Mini tummy tuck surgery may be performed under general anesthesia, but is usually completed with a local anesthetic and mild sedation. The surgeon will make a smaller incision than a traditional/full tummy tuck requires, but the length of the incision will depend on the amount of skin to be removed. This is why mini tummy tuck surgery is also sometimes known as a "scarless tummy tuck." The surgeon usually does not have to reposition the navel. Next, the surgeon will stretch the skin and shape it by cutting away the excess and stitching the remaining skin into place.
This frequently is performed with liposuction to sculpt the tummy into the desired shape.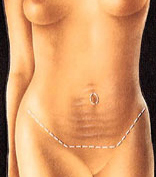 Full Tummy Tuck
A traditional tummy tuck is best suited for healthy individuals who are fairly physically fit, but are unable to achieve their desired abdominal appearance through diet and exercise. Women whose abdominal skin and muscles have been stretched by pregnancy or further damaged by cesarean sections are good candidates for treatment. Tummy tuck procedures are also excellent for individuals who have experienced dramatic weight loss, but are unhappy with the sagging belly left behind. Both women and men can be appropriate candidates for tummy tucks. (Please view right picture for length of scar, which extends just toward the hip area.)
In the full tummy tuck procedure, the surgeon will make a long incision along the bikini-line, often from hip to hip. Next, the navel will be cut away from the surrounding tissue, because it will need to be returned to the proper position once the skin has been stretched into place. Usually the surgeon will tighten the abdominal muscle wall by stitching the muscles into position. The surgeon will then stretch the skin and shape it by cutting away the excess and stitching the remaining skin into place. A hole for the navel will then be cut, and the navel will be stitched into place. This is usually done under general anesthesia.
Although this is up to the individual surgeon, liposuction is usually performed at the same time to create a nice contour.
Extended Tummy Tuck
An extended tummy tuck is usually for obese patients that have a great deal of excess fat and have overhanging skin that extends to the back. In order to leave a nice contour, the incision needs to be extended beyond the hip area and extend more towards the back. Again, in this case the surgeon tightens the stomach muscles and create a new belly button.
This procedure is only necessary when a patient has a significant amount of excess fat and skin in the flank and upper hip regions.
Liposuction is usually performed at the same time to create a nice contour.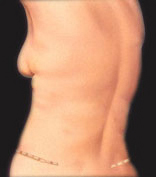 The length of scar is extended beyond the hip area and more towards the back.
Circumferential Tummy Tuck
A circumferential tummy tuck is more extensive than a full tummy tuck. It's usually performed on patients who have lost a great deal of weight (usually after gastric bypass surgery/bariatric surgery) and now have loose, overhanging skin around their entire body. In a circumferential tummy tuck, the incision extends all around the waist line (that is, the circumference of the patient's abdomen), and excess skin, fat and muscle are removed. The outer thighs and buttocks are also lifted, and a new navel is usually created.
Liposuction may also be performed to maximize body contouring.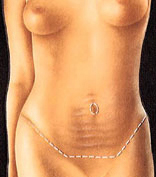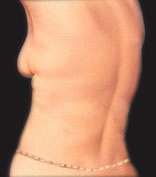 The length of scar extends all around the waistline.
Benefits of Tummy Tuck
The tummy tuck, or abdominoplasty, can dramatically tighten the abdominal muscles, as well as the sagging, excess skin and accumulated fatty tissue. Not only will the abdomen be firmer and flatter, but the waist will be smaller as well.
The amount of improvement depends upon the extent of surgery and the patient's skin tone, body build, and healing process. Most people are happy with the results, and report a better body image after the surgery.
Best candidates for Tummy Tuck
The best candidates for a tummy tuck are people who are in otherwise good mental and physical health but have large, unmanageable fat deposits along their waist that no manner of diet or exercise will reduce. Abdominoplasty are particularly useful for women who have had a number of children and consequently stretched their abdominal muscles past point of no return. Women who plan on getting pregnant or plan on losing a great deal of weight should hold off on getting a tummy tuck. Loss of elasticity in the skin in older patients can also be improved with this procedure.
The exact benefits vary from person to person, so please discuss your expectations with your surgeon and he can suggest the right procedures.
Preparation for Tummy Tuck Cosmetic Surgery Procedure
Before you undergo a tummy tuck, it is important for you to discuss any medical conditions that you have and to tell your surgeon about any medications that you are taking including any herbal or other non-prescription ones. If your surgeon decides that you can have a tummy tuck, discuss the procedure thoroughly with him or her before deciding if you want to go through with the procedure. Even though your surgeon says that you may does not mean that you must decide to have a tummy tuck. You may still change your mind even after discussing the procedure with your surgeon.
Your consultation with the surgeon will give you a detailed understanding of the treatment – the extent of surgery, your health evaluation, your expectations and exactly where your fat deposits lie in your stomach. When you are happy with what has been discussed, and have signed a booking form for the operation, the surgery will be booked at a date agreed.
Your surgeon should be able to answer any questions that you have about tummy tucks including questions about what to expect during and after a tummy tuck and the complications or problems that sometimes occur with tummy tucks. You may also take information from this website to your appointment to discuss with him.
During your consultation your surgeon will do a physical evaluation of the areas to be treated. At this appointment you and your surgeon will discuss your goals, and last queries you have and finalize the plan for surgery.  From this examination, he can determine the best procedure to use – either the partial or full procedure – and then explain it to you in detail, including the benefits and limitations. The surgeon may also recommend a combination of the tummy tuck with liposuction, for a better body contour.
It is important to stress the importance of not smoking before a tummy tuck procedure. Smoking can cause problems with circulation and make complications more likely, including post-operative chest procedures.
Surgical procedure
Under general anesthesia, the surgeon will make a long incision across the lower abdomen. The length of the incision and amount of excess fat and skin to be removed, and stomach muscles to be tightened, depends on which type of tummy tuck procedure is performed. Please read the surgical procedures on mini tummy tuck, full tummy tuck, extended tummy tuck and circumferential tummy tuck again.
Except for the mini tummy tuck, the navel is repositioned and the skin is re-stretched over the stomach. This provides a firmer abdomen and narrows the waistline.
Recovery and Post-op care
A tummy tuck will require one to three nights in hospital, depending on the extent of the surgery. The first few days after an abdominoplasty are the most painful, as the amount of soreness and swelling are at their highest point immediately following the procedure, but this can be controlled by medication. In any case, abdominoplasty patients will experience soreness and tenderness in their lower torso, and must exhibit extreme caution to not disturb their stitches and sutures while their skin heals. The surgeon will remove the stitches after five to seven days, after which the patient will need to wear a specially designed support garment to ensure proper healing.
Returning to normal after a tummy tuck takes a bit of time. You will normally be able to walk around soon after, however at first you may not be able to stand straight. After the first week you should be able to resume normal (soft) activity. A great deal of recovery depends on your physical state before the surgery, and your physical activity after it. While light exercise may seem painful at first, it is absolutely necessary to guarantee proper healing and to reduce or prevent a number of serious post-operative risks, such as blood clots and excess swelling.
Some patients return to work as little as two weeks after the procedure, while others take longer to heal. The scar will depend on how large the operated area is – it can be as small as a caesarean incision, or a longer scar across the abdomen. At about nine months any scarring will likely subside, giving you the freedom to show off your new stomach to the whole world.
We provide excellent post-care support, with follow-up visits and programs to assist your recovery. If you have any questions or concerns, please let us know and we will schedule an appointment with the surgeon. View our recommendations for post-operative recovery.
Recommended length of stay on holiday
14-21 days.
Other recommended procedures with Tummy tuck
Many people who travel for Cosmetic surgery have more than one procedure because of the cost advantages and also for a more balanced look. Breast surgery – enhancement or reduction – is very popular with tummy tucks to give a sculptured silhouette. Face treatments – the popular facelift, or eye lift – are popular to freshen the face.
The "Ultimate Makeover" includes Tummy tuck with a choice of other surgical and non-surgical procedures. Enquire for more information.
Your new look
Tummy tucks , whether mini or extended, produces excellent results for patients with weakened abdominal muscles or excess skin. And in most cases, the results are long lasting, if you follow a balanced diet and exercise regularly.
If you're realistic in your expectations and prepared for the consequences of a permanent scar (though minimal) and a lengthy recovery period, a tummy tuck may be just the answer for you.
Preconditions and Risks
We minimize risks and complications by selecting patients carefully and always having the most skilled surgeons, physicians and nurses carry out procedures. However, despite the highest standards, complications can occur. They are rare, and most patients will not have complications, but if you have concerns about possible complications, please discuss these with your doctor.
Risks are less when this surgery is done by a qualified plastic surgeon trained and familiar with this procedure. Postoperative complications such as infection and blood clots (hematoma) are rare, but can occur. Infection can be treated with drainage and antibiotics, but will prolong your hospital stay. Blood clots can form in the legs during immobilization and break free to go to the lungs. You can minimize the risk of blood clots by moving around as soon after the surgery as possible.
Poor healing, which results in excessive, conspicuous scars, may necessitate a second operation. Smokers have an increased risk of tissue loss and delayed healing. Stopping nicotine use and smoking several weeks before and several weeks after surgery cleans the body and improves the chance of an uneventful recovery.
There are often areas of the abdominal skin that will be numb after surgery. Nerves to the lower parts of the abdominal wall are divided when re-draping the skin. Upper abdominal and nerves on the sides (lateral wall) can be stretched during this tissue adjustment and temporarily result in numb regions. Although there is some risk for permanent diminished sensation, almost all patients regain most or all of their feelings.
Though most of these complications are rare, we believe every patient has a right to know and make an educated judgment. Please read the preconditions and risks page before embarking on any surgery.
Common Q & As
If you have questions other than those listed here, please view our complete page for Q & A.
how much is a tummy tuck in mexico,what is a mini tummy tuck,tummy tuck cost,tummy tuck in the bahamas,mini tummy tuck cost,tummy tuck surgery cost,tummy tuck surgery,what is tummy tuck,tummy tuck procedure,tummy tuck surgeons in mexico,male tummy tuck,mini tummy tuck,tummy tuck and breast lift,best tummy tuck surgeon,tummy tuck prices,plastic surgery tummy tuck,tummy tuck and breast augmentation,tummy tuck and breast lift cost