Procedures: – Breast augmentation and Labiaplasty
Surgeon: Dr Poonsak & Dr Piyapas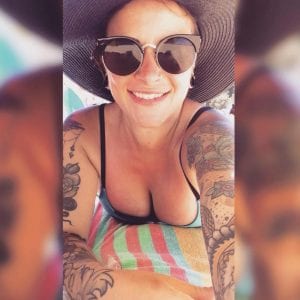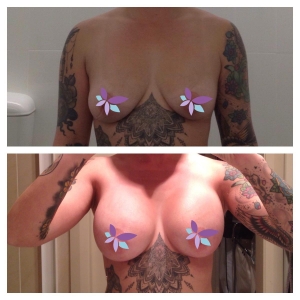 This is Sam's story:
I first started considering plastic surgery about 4 years ago – when I turned 19 and started working in an office, I put on weight. This in turn made my breasts bigger, and then when I lost the weight my breasts shrank and sagged. They had no shape to them and I could never get away with not wearing a bra.
At the same time, I spent my teenage years as a competitive horse rider, and all those years in the saddle left me with swollen and misshapen labia. I was embarrassed to wear a bikini because of the bulge.
Both of these things bothered me for quite a few years until I decided that I should do something about it. When I learned that I could have these procedures in Thailand, and have a fantastic holiday at the same time for a fraction of the price in Australia, I knew it was what I wanted to do. My partner came to Thailand with me and supported me all through the lead up and recovery for my surgery. We managed to spend quality time together even while I was sore and tired.
I didn't consult any surgeons at home, once I decided I wanted the surgery I only wanted to go to Thailand for it – having a holiday at the same time really appealed to me! I rarely get a chance to go on holidays, so combining the two was right up my alley.
I chose GORGEOUS GETAWAYS as I have had previous experiences with them (as have some friends) and it's always been positive.
I was a little nervous in the lead up to the holiday, and I only told a few close friends – there is still such a stigma around plastic surgery that I didn't want to be dealing with my nerves AND people telling me not to do it!
When I arrived at the hospital I was very pleasantly surprised. The staff were friendly and attentive, the facilities were top notch, and the GG support staff had the answers to any questions i had.
I almost immediately relaxed – I felt confident in what I had chosen to do. Right before surgery I started to feel a little nervous again, all the thoughts of "I hope everything goes as planned!" start to creep into your mind. When I first woke up afterwards, I was a little sore and out of sorts, but the nurses were so great with their care it was easy to relax again. I was discharged the following day.
I was up and about pretty soon after getting back to the hotel, though I was a little slower than normal. My partner was on hand to help me at all times, and was very understanding if all I wanted to do was lie on the couch with icepacks. I made sure to rest and ice, and took arnica to reduce swelling and bruising.
My partner and I hired a scooter for our time in Thailand, and after a few days I was feeling well enough to hop on the back. We went shopping, we went to the beach, we went up to see the big buddha. It was fantastic! I took things slow, and there were some days where I was just too sore to go anywhere.
When it was time to go home, I was sad and excited at the same time. Sad to be leaving our holiday only just after it started, and excited to see my friends and family.
Now that most of my healing is behind me, I feel fantastic. I have absolutely no regrets about my surgery – I can wear all sorts of clothing that I never felt confident in before, and when I look in the mirror I love what I see.
My advice would be to take it slow and listen to your body. If you need a rest, have a rest. If you feel great, get up and get outside – it really helps mentally to be able to get on with normal activities.
Having both of the procedures at the same time was tough, as it was sometimes hard to get comfortable, but I don't regret doing it as it meant I only had to go through healing once.
GORGEOUS GETAWAYS was fantastic – the level of support was great and I felt at ease knowing the staff had the answers to my questions.
Return to view more Case Studies
If you would like to speak to Sam or other clients please contact us at GORGEOUS GETAWAYS.
*These case studies are actual feedback that patients have provided and the photos have not been digitally enhanced. Every patient is an individual and therefore results will vary from patient to patient.