Procedures: Breast Reduction with Lift, Hip to Hip Tummy Tuck. Hospital: Beverly Wilshire Medical Centre, Kuala Lumpur, Malaysia. Surgeon: Dr Jalil.
Leanne had been considering a procedure with GORGEOUS GETAWAYS for six years, after a recommendation from a work mate. And after loosing 52 kilos with the help of sleeve surgery, she booked in for her tummy tuck and breast reduction in Kuala Lumpur, Malaysia.
After the sleeve surgery Leanne felt the procedure was even more of a priority, with a lot of loose skin left over after such an extreme loss of weight. Although Leanne was at a healthy, and ideal weight she still couldn't get below a size 16 in pants because of her extra skin. And at a size 14 DD, buying bras was proving to be just as challenging.
This procedure was something Leanne was doing purely for herself…
"All my life I've been a single parent looking after my kids, now they're grown up it's time to do something for me. It's quite selfish- and I'm liking it!"
Along for the ride was Leanne's daughter, who went as a support person, but also as a trail run for herself as she too has undergone sleeve surgery, and lost a huge amount of weight, just like her mum.
"I'm feeling fine about the trip, with my daughter along it will be just like being at home- only with better food!"
We spoke to Leanne while she was recovering at the Pullman Hotel in Kuala Lumpur. She was surprized at how comfortable she felt in a hospital far away from home…
"The staff were fabulous, I thought they would be completely different from me but they weren't, they understood everything and I felt really relaxed, not like I was thousands of miles from home".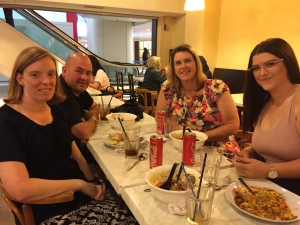 Client manager Kumari went above and beyond to make Leanne feel comfortable, visiting regularly, even on days she wasn't working, and introducing her to other Australians and New Zealanders who were travelling with GORGEOUS GETAWAYS.
Left- Client get together KL
Right- Leanne leaves hospital
Leanne and her daughter were able to enjoy a bus tour to take in the sights, building up to it with a few short shopping trips where Leanne could  stop anytime at a café for a rest, or just grab a taxi home.
The most important thing she learned about being away from home was to keep up communication with loved ones. Buying a sim card as soon as she arrived meant that she was always connected, and less like she was thousands of miles from home and more like she was just down the road!
Six weeks after the procedure, we spoke to Leanne at home and reveling in all the positive attention!
With a new haircut to complement her new shape, even workmates and friends have a hard time recognizing her. She's confidently buying clothes and pretty bras off the rack without just looking for a practical solution, and good support. She's also realizing just how her breast size was affecting her pre-surgery…
"I didn't realize until after the procedure, that because of my larger breast size, back spasms were a part of my daily life. I

don't have to deal with that anymore!"
Leanne's recovery is going as planned and she's healing well, her stomach is still numb but she's aware that it can take up to 18 months to get sensation back to that area. She's had no problem getting back into her hectic life. She talks fondly of her surgeon…
"Dr Jalil was great, he made me feel so relaxed and would stop in every day to see how I was. He was genuinely interested in me and my daughter, and how we were enjoying our experience in Malaysia"
And looking back, she marvels at how many people are too scared to go overseas for surgery.
"You only ever hear the horror stories, never any of the good ones like this. I'm spreading the word and now, after seeing my results, a bunch of my friends want to go over too!"