For a great day out in Bangkok there are many places to visit. Some of them are listed below:
Ancient Siam (formerly known as Ancient City) is a park constructed under the patronage of LekViriaphant and spreading over 200 acres (0.81 km2) in the shape of Thailand.
The founder's original idea was to create a golf course with miniatures of Thailand's historically significant structures spread around the course. During his research he found most structures being severely damaged over time and decided instead of creating new miniatures to save the original structures when possible or re-creating them full size or scaled down.
Ancient Siam is dubbed as the world's largest outdoor museum. Situated close to the Crocodile Farm in SamutPrakan Province, the 320-hectare city features 116 structures of Thailand's famous monuments and architectural attractions
Ayutthaya is an island. As the train station is at the east side off the island, most visitors will need to cross the river by ferry boat. Navigating your way around the island is not particularly hard: U Thong Rd is a ring road that circumvents the island completely. Most temple ruins can be found at the northwest of the island, while accommodation and night life is clustered around the northeast.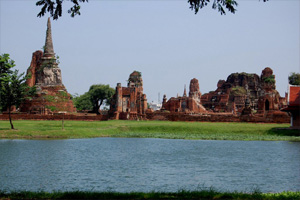 Take Highway 1 (PhahonYothin) via Pratu Nam Phra In and turn into Hwy 32, then turn left to Hwy 309 to Ayutthaya.

Take Hwy 304 (ChaengWatthana) or Hwy 302 (Ngam Wong Wan), turn right into Hwy 306 (Tiwanon), cross Nonthaburi or Nuanchawi Bridge to PathumThani, continue on Hwy 3111 (PathumThani–Sam Khok–Sena) and turn right at AmphoeSena into Hwy 3263 to Ayutthaya.

Take Hwy 306 (Bangkok–Nonthaburi–PathumThani), at PathumThani Bridge Intersection, turn into Hwy 347 and Hwy 3309 via Bang Sai Royal Folk Arts and Crafts Centre, Amphoe Bang Pa-in, to Ayutthaya.

Take Expressway No.9 (Si Rat Expressway) via Nonthaburi–PathumThani and down to Hwt 1 via Bang Sai Royal Folk Arts and Crafts Centre, turn left onto Hwy 3469 towards Bang Pahan and turn right at Worachet Intersection to Ayutthaya.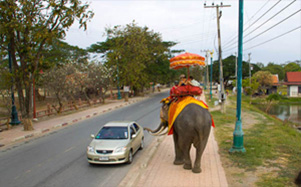 The cheapest and most scenic way of reaching Ayutthaya is by train. It regularly departs from Bangkok's Hualamphong Train Station and stops in Ayutthaya. The trip takes about 2 – 2.5 hrs.The railway station is not on the island but across the river a short ferry ride away. Walk across the main road and down the small street straight ahead. Ferry boats run every few minutes and cost 4 baht.
Buses operate every 20 minutes or so from Bangkok's Northern Bus Terminal (Moh Chit) directly to Ayutthaya (despite what locals say, the last bus leaves at 18:00). First-class air-con buses charge 56 baht. This trip is scheduled to be around an hour and a half, but allow at least two hours for the trip since the buses stop rather frequently and there are often jams on the roads out of into Bangkok.

Also you can take a minivan from the Victory Monument direct to Ayutthaya. Takes 1 hour and costs 100 baht. Minivans depart every 20 minutes or so.
The buses run from 04:30–19:15.

For more details, call Tel. +66 29 362 852-66 or see the website and Ayutthaya Bus Terminal, Tel. +66 35 335 304 +66 35 335 304, +66 35 335 304, +66 35 335 304

In Ayutthaya, the central BKS bus station is on the south side of Naresuan Rd next to the Chao Phrom Market. songthaews to Bang Pa-In also leave from here. Some 1st-class buses to Bangkok, however, leave from the north side of the road some 500 m to the west, on the other side of the khlong (canal); the queue for air-con buses is easy to spot.
Convenient minibus service (can get stuck in traffic, but makes no stops like regular buses) operates from the Victory Monument square in Bangkok. Take BTS Skytrain to the Victory Monument station, and go right on the elevated walkway. Stay on it until you cross a large road, then descend. The buses are parked at the side of the main traffic circle. The cost is 60 baht, takes around 1 hour to 1 hour 20 min. It's quite convenient since you don't have to go to bus terminals (nearby Mo Chit) but the only problem is that the minibuses don't have much space to carry big bags and have to wait until the car is fully filled.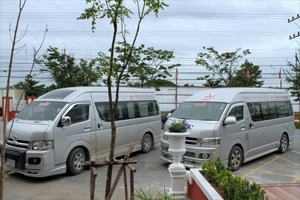 Cruise boats run up the river from Bangkok, often stopping at KoKret and Bang Pa-In along the way. You'll need to book in advance as there are no scheduled services, just trips for tourists. It's a fairly lengthy trip (at least one whole day) and some of the larger boats offer (pricy) overnight tours.Travelling by boat to PhraNakhon Si Ayutthaya is popular among foreigners since it does not only reveal the beauty as well as lifestyle of the people on both sides of the Chao Phraya River.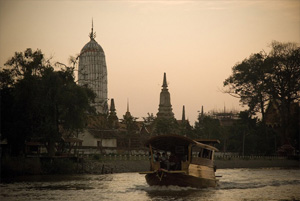 How to Get around Ayutthaya:
Bicycling around the ruins is the most enjoyable and fun way to spend the day. The archaeological park is easily reachable and manageable on bike even if you aren't very fit. The paths are paved and the distances between temples are small.
You can rent a bicycle for around 60 baht per day.
Alternatively, you can get around town by tuk-tuk (motorized 3-wheeler).
Ayutthaya's tuk-tuks are larger than the Bangkok variety and you can easily squeeze six people in on facing benches. Only "official" tuk-tuk drivers or tourist "helpers" can pick up passengers from the train station. You can verify their status by looking for their photos/name on a "Tourist Officials" board displayed at the southern end of the platform. 200 baht per hour seems to be the starting point for tourist tuk-tuks picking up backpackers away from the station, although it can be possible to negotiate a lower price.
From Ayutthya, mini-buses can be taken from the railway station into the city. Hiring a mini- bus within Ayutthaya costs between 400-500 baht/day. For travelling between Ayutthaya and Bang Pa-in, mini-buses regularly leave Chao Prom Market, Chao Prom Road starting from 06:00.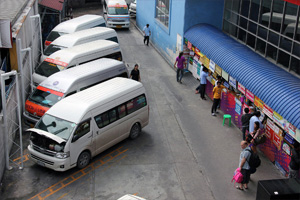 Boat trips to enjoy the beautiful scenery and Thai lifestyle along the Chao Phraya River, the Pa Sak River and around the town island of PhraNakhon Si Ayutthaya are available. A long-tailed boat can be chartered at the pier in front of ChantharaKasem National Museum, PomPhet Pier, and WatPhananchoeng Pier. The fare depends on the route and duration. Rice barges are also available for groups that offer a relaxed way to see Ayutthaya.